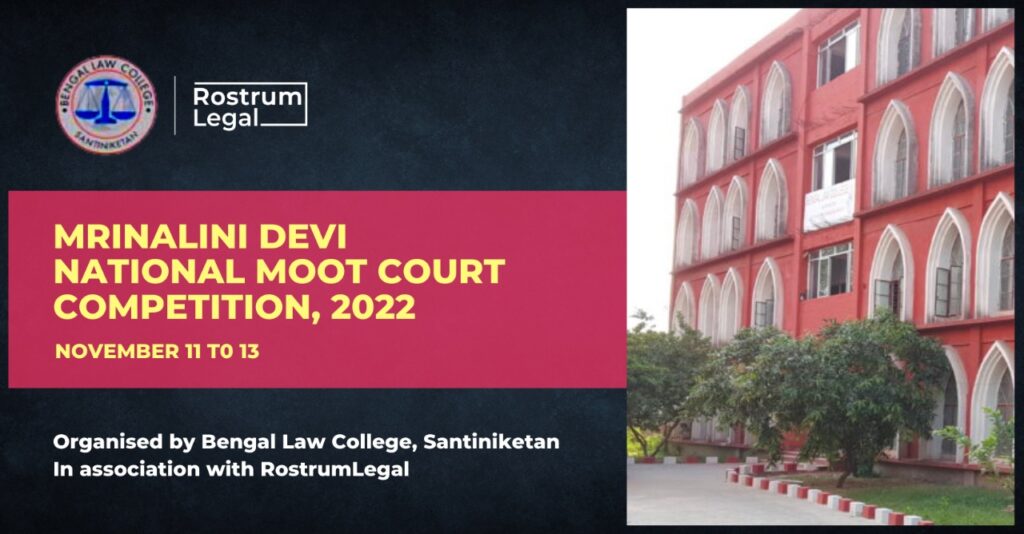 It gives us immense pleasure to invite your esteemed institution to participate in the 3rd Mrinalini Devi Memorial National Moot Court Competition, 2022 which will be held from November 11th to 13th, 2022 in physical (offline) mode in association with RostrumLegal.
The moot problem of this year is one of its kind and very different from moot propositions prepared in other competitions. It is based on a civil dispute related to a sale agreement (contract) involving the transaction of immovable property. The purpose of choosing this moot problem was to enable the participants to have an idea of civil litigation which is considered to be the toughest practice area in the practice of law. The work and research on the problem will make students learn about the practical applications of laws read in the classrooms like the contract act, specific relief act, registration act, code of civil procedure, limitation act, etc. It is expected that this competition apart from giving a first-hand mock experience of civil litigation will also be a learning proposition for the undergraduate students participating in the competition and that it will generate an interest in civil law and its practice.
This Competition provides an opportunity to various teams from across India who come here to battle it out and earn the coveted winner's place. This competition induces the opportunity to display research skills, speaking skills, and an overall prowess in courtroom etiquette.
The last day for registration is September 25th, 2022 and the entire registration process is online.
Competition Timeline
Release of Moot Proposition: August 23, 2022
Last Day to Register Online: September 25, 2022
Last Day to Seek Clarification: September 29, 2022
Release of Clarifications: September 30, 2022
Release of Contact Details of Volunteers: September 30, 2022
Last Date to Submit Memorials (E-mail): November 01, 2022
Last Date to Submit Memorials (With Penalty): November 05, 2022
Inaugural Session & Draw of Lots: November 11, 2022
Preliminary Rounds: November 12, 2022
Final Rounds followed by Valedictory Session: November 13, 2022
Registration
RULES:
Teams must confirm their participation by sending a scanned copy of the Registration Form completely filled and duly signed by the Head of the Participating Institution to blcmootcourtcompetition@gmail.com by September 25, 2022.
Please send the scanned copy of the duly filled with legible handwriting Registration Form along valid Identity Card of each participating member to make the valid registration at blcmootcourtcompetition@gmail.com on or before September 25, 2022.
REGISTRATION FEE:
The Registration Fee for the competition is INR 3,600/- (Rupees Three Thousand Only). The participants are required to make the payment online using internet banking or debit or credit cards.
The last day to pay the registration fee is September 25, 2022.
The registration fee for the competition also consists of the fee towards accommodation and food including breakfast, lunch and dinner from 4 PM on November 10, 2022 to 3 PM on November 13th, 2022 for all the three participants in a team.
For further details regarding the Moot Competition, Moot Problem, and the Rules, kindly visit the official website of the competition: https://blcmoot.com/