Live Online Coaching for Judicial Services Exam Preparation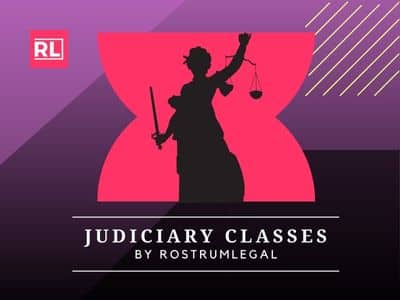 1. Criminal Procedure Code
2. Indian Contract Act
3. Specific Relief Act
4. Transfer of Property Act
5. Negotiable Instruments Act
6. Constitution of India
7. Civil Procedure Code
8. Limitation Act
9. Indian Penal Code
10. Indian Evidence Act
11. Family Law
12. Law of Torts
13. Registration Act
14. Sale of Goods Act
15. Partnership Act
The core subjects are taught with the mindset of covering pre as well mains exam. The weekly tests include practice of subjective answer writing and Model answers are provided for the same by our Mentors.
Recorded sessions available on Judgment writing (Civil and Criminal)
Minimum 2 mock interviews are conducted for aspirants who have cleared the mains exams.
We also conduct extensive trainings on how to approach the interview part of the judiciary exams.
State Wise Mock Test Series Available for:
Uttar Pradesh, Madhya Pradesh, Chhattisgarh, Rajasthan, Haryana, Maharashtra, More state exams will be covered as when exams are announced.
Sectional Mocks Available for:
Criminal Procedure Code, Indian Contract Act, Specific Relief Act, Transfer of Property Act, Negotiable Instruments Act, Constitution of India, Civil Procedure Code, Limitation Act, Indian Penal Code, Indian Evidence Act, Family Law, Law of Torts, Registration Act, Sale of Goods Act, Partnership Act
Saturday, 02-December-2023, 7 PM Onwards
Frequently Asked Questions