Preparation Strategy for
UGC NET (Law) 2022
Tuesday 06 July 2022 – 7 PM Onwards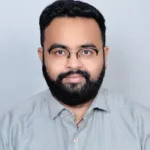 Shobhitabh Sir is mentor for UGC-NET at RostrumLegal. Graduate from SLS, Pune and completed his LLM from HNLU, Raipur. He is UGC NET Qualified and has more than 5 years of teaching experience. He has been faculty of Law at Tamil Nadu National Law University and Amity University. He has also Published Several Research Papers and is currently pursuing Doctoral Research in Law.
This Webinar is a Must-Attend for all UGC NET (Law) Aspirants
To register for the Webianr, you have to fill the required details in the registration form and submit the details. You will get your Webinar confirmation through Email and SMS after completing your registration.
If you are a CLAT PG 2023 aspirant, and you wish to clear the CLAT PG Exam for taking admission in LLM or to apply for PSU jobs, but are clueless as to where to begin, this CLAT PG Webinar conducted by our team of experts is the right place to start.
For any queries Call or WhatsApp us on 9844035831